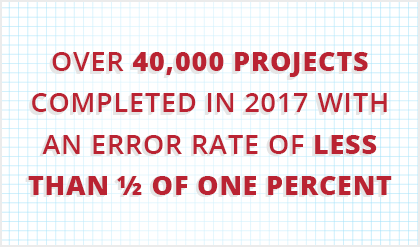 According to the Common Ground Alliance (CGA), over the last 20 years improperly located or undetected subsurface utilities have caused $1.7 billion in damages, and resulted in 1,906 injuries with 421 fatalities.
The CGA represents a body of industry stakeholders that advocate for the 811/One Call utility funded public property locating service. Part of this advocacy is publishing the "Dirt Report", an awareness document of the previous year's utility strikes nationwide. Their efforts to mandate the use of the 811/One Call system has resulted in legislation across the US that requires calling the service before excavation.
Most – if not all – of these losses could have been avoided through a detailed site investigation using multiple technologies and highly trained personnel.
Outside of the free 811/One Call public property utility location service, there is a vibrant private property utility location market. Contractors that service this marketplace use specialized technologies like ground penetrating radar to image and mark-out underground utilities, as well as scan concrete for critical targets like structural steel embedments. The two locating services are widely used in the construction industry to increase site safety and limit damages to unknown utilities and structural elements.
The largest contractor in the private utility location market is GPRS. In 2017, GPRS completed over 40,000 projects with an error rate of less than ½ of one percent. This success can be attributed to the experience-driven training and technologies used on sites across the US.
GPRS subscribes to a comprehensive approach to conducting a subsurface investigation. This approach is referred to as Subsurface Investigation Methodology or SIM.